At the May meeting for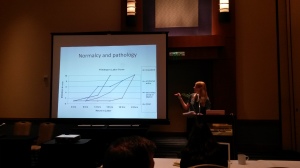 the Intel Science and Technology for Social Computing I had the pleasure of chairing a panel on Quantified Society: Data Beyond the Individual.  The panel included research on the social and political life of algorithms, algorithmic dimensions of organizations and organizing, and performativity of data metrics and featured excellent talks by Tarleton Gillespie (Cornell University), Pernille Bjorn (IT University Copenhagen), and Malte Ziewitz (New York University).  The meeting was held at Georgia Tech University in Atlanta, Georgia.
Here is a picture of me giving a talk on the performativity of measurements used in the practice of obstetrics, using the illustrative case of Friedman's curve (a classic tool used to assess the progress of labor and diagnose abnormal labor patterns).